"Mirror, mirror, on the wall" . . .; breaking a mirror yields 7 years bad luck . . . I just hate all the bad PR bestowed upon mirrors by our popular culture, because when it comes to decorating, there are few tools more useful than the humble mirror.
Of course, everyone has the utilitarian mirrors in their bathroom and dressing rooms. Perhaps you even have one in your entryway for the quick "lipstick check" on your way out. But if you've limited your use of mirrors to their utilitarian functions, your home may be missing out!
Here are 7 Places You Should Consider Hanging a Mirror:
#1)  Hang a mirror wherever you wish you had a window.
Ideally, each room in your home would have windows that bring in plenty of natural light and are situated on at least 2 walls. If the majority of your windows are lined up on one wall, sure you might have a great view, but the light quality inside a room can feel flat without light coming in from multiple directions. Of course, many real homes, from sprawling houses to compact apartments, don't quite have this window magic.
So – what's a real homeowner to do?
Hang a mirror! Ideally, put the mirror on a wall perpendicular to the windows, close enough so that when sunlight comes in, it will bounce off the mirror. Basically, making the mirror function as another window.  Seriously – this can make a huge difference in your light quality. And, if you want to really get tricky disguising your lack of windows, you can use a paned mirror to fool the eye!
Photo from Pottery Barn – Marlena Antique Mirror Rectangle
#2) Hang a mirror to make a room sparkle!
Of course, there's more than one way to light up your home! Even if a mirror cannot be hung close enough to a window to reflect natural light, placing one along any wall will still bounce around the artificial light inside and help brighten your interior.
Elevate this trick from function to fabulous by highlighting a glowing lamp in a moody corner, or a sparkly chandelier in your dining room or entry. If you have something beautiful and it's adding ambient lighting to your home, amplify the effect by placing a mirror to increase the sparkle.
Photo from West Elm – Marble & Brass Wall Mirror
#3) Hang a mirror anywhere you have a great view to reflect!
If you're lucky enough to have a great – or even a "good enough" view – why not let it serve double duty in your space by reflecting it! I am always super picky in arranging furniture so that good exterior views are maximized from seating areas, but of course, since people generally want to face one another when they congregate, it's not possible for every seat to get the "good view". So, adding a mirror to reflect your lovely garden, or even a lush tree can help spread the joy.
Photo from Rejuvenation – Round Metal Framed Mirror
On the flip side, be careful in hanging a mirror to avoid reflecting unsightly views. It's really helpful to have an extra set of hands available when hanging a mirror so you can step back and check out the reflection from different angles in the room. It can definitely be worth adjusting the height or location to capture the perfect tree (and avoid the flat plane of your neighbor's house!).
#4) Hang a mirror when you want to add some curves to your space.
Our interiors are dominated by straight lines and rectangular shapes. Room shapes, windows, doors, sofas, beds and tables are often mostly rectangular. Bringing in circles and curves whenever you can to balance a space is a tried and true design trick, and mirrors can help you do this.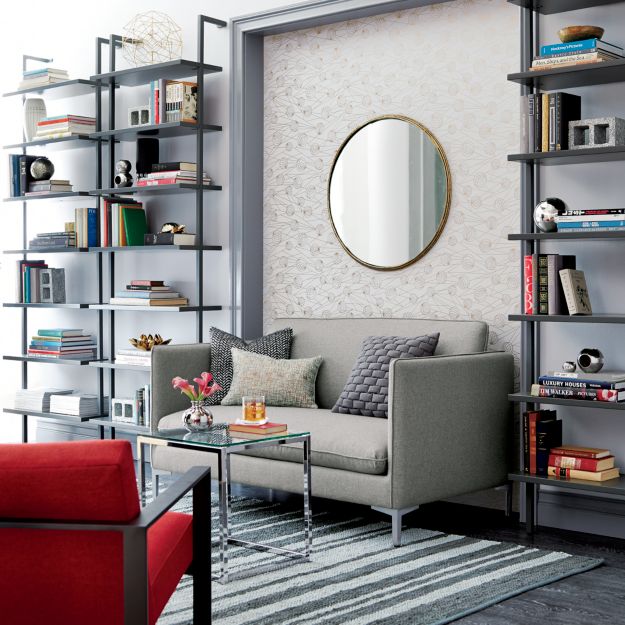 Photo from CB2 – Tork Brass Dripping 30″ Wall Mirror
Of course, many mirrors you see are also rectangular, but you can find many gorgeous mirrors that are circles, arches, quatrefoils, or other myriad of shapes. This variety especially helps when your are trying to adorn your walls. Most artwork is framed in rectangles, so adding a lovely, simple circular mirror can be just what a room calls for as a finishing touch. The contrast of curves is also stunning over straight edged mantles or headboards – especially those flanked by (more rectangular) windows.
#5) Hang a mirror where children play.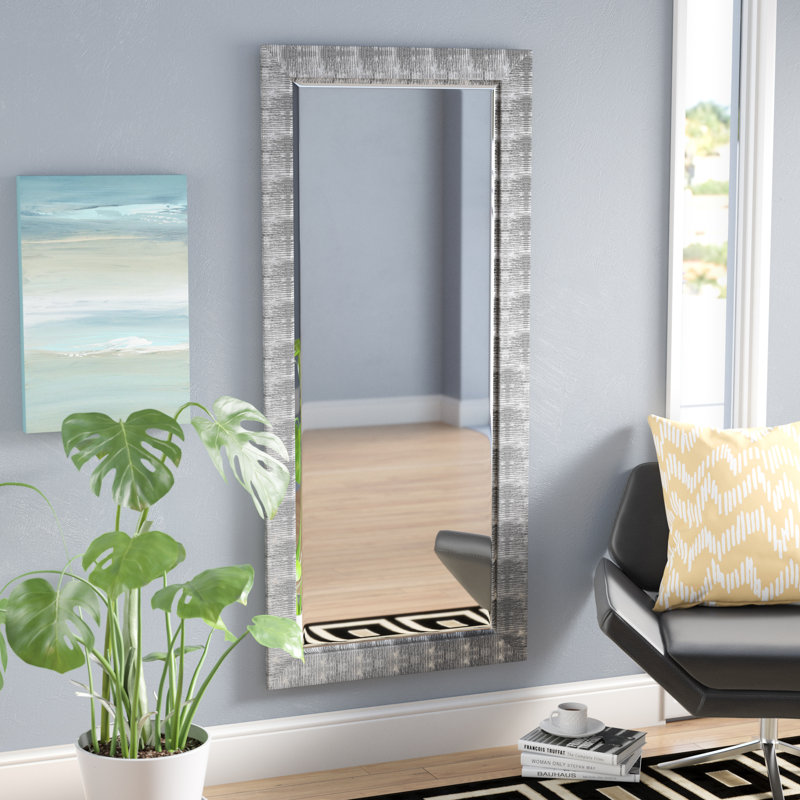 No one is more fascinated by mirrors than young children – and who can blame them – their reflections are generally pretty adorable! Unfortunately for them, most household mirrors are hung at heights that make it hard for children see their reflections, which is really a shame. So if your real home is filled with little people, consider hanging a mirror or two at their height.
Children love to not only study their images, but also make faces at themselves, dress up in costumes, or practice their dance moves in front of a mirror. Why not give them adequate opportunities to do so by hanging a mirror in their bedroom or playroom. It is sure to capture their attention and ignite their imagination!
Photo from Joss & Main — Grain Textured Beveled Wall Mirror
#6) Hang a mirror over wallpaper.
Unless you've been living in a cave, you've surely noticed that wallpaper is back with a vengeance – and often the bolder the better. The large scale wallpaper that is currently the darling of design doesn't always play nice with traditional artwork. Now, it's generally lively enough to hold it's own, but sometimes a wall can feel naked and you just need a little something to complete a space. Enter the mirror. It's lovely "nothingness" is the perfect layer over your favorite wallpaper.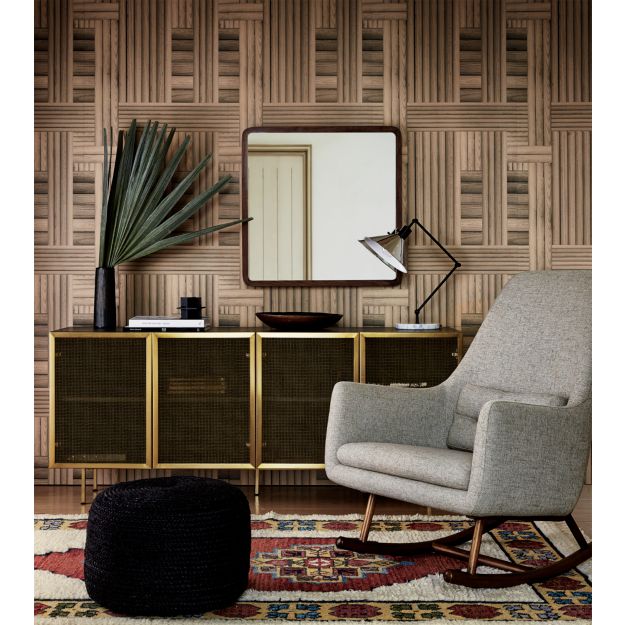 Photo from CB2 – Walnut 30″ Square Wall Mirror
#7) Hang a mirror when you are not ready to commit to artwork.
Do you know there are a couple of mirrors currently hanging in my home that I have owned for nearly 20 years! And they are big, space-filling pieces to boot, not some little nick-nacks. Seriously. I think the only other "art" which can claim that sort of longevity in our house is my wedding portrait.
Mirrors are pretty versatile and long-lived when it comes to decor. Over time your tastes and style may change, your color-scheme may change, your entire house may change – but no matter how many times you move or redecorate – their is a pretty good chance you can always find a space to hang a quality mirror. So if you're staring at a big blank wall and for whatever reason just can't commit to or find a fabulous piece of art you both love and can afford – buy a great mirror instead. You won't regret it!
Stock Photo from Pixabay
Have any tips or questions about using mirrors in your home? Please share them in the comments.